Here is a list of 50 inspiring good luck messages for football players to encourage them to do their best and have fun at the game.
#1 It's the moment of truth, mere moments before the big game. Win or lose, we know that you'll make us all proud!
#2 You've worked so hard to make the cut and to be chosen to be on the team. Get out there and show them how it's done!
#3 I hope you have a good game tonight. I know you have been working hard and thinking about this game for a while. Play hard.
#4 I am excited about your big game. Remember to work hard and play the game with all intensity and integrity. I know you will do great.
#5 I will be thinking of you and the game you have this week. I can't wait to see how you guys do. Leave it all out on the field.
#6 I have been so impressed by your commitment to your team and to training and being in the best shape possible. No matter what happens, you should be proud of everything you have done.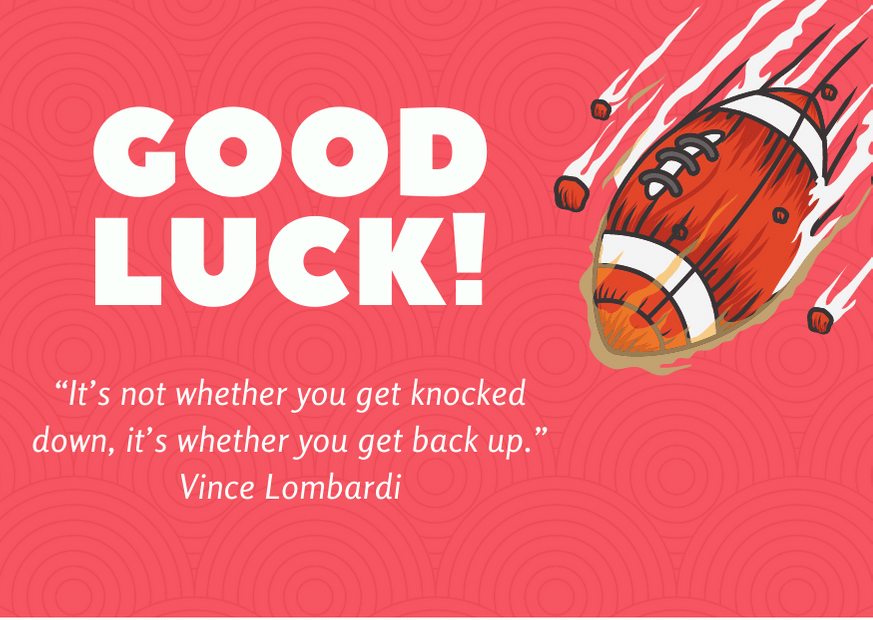 #7 You have a great team, and I know you will do well in this week's game. If you guys work together and play with all your hearts, there is no team that can beat you.
#8 Be the leader that you are out there on the field this week. Your teammates are looking at you to be an example of good sportsmanship and focus. I am sure you will do great.
#9 Don't let pre-game jitters fool your mind. Repurpose that emotion into your resolve and willingness to succeed, knowing that you'll be an enormous asset to your team.
#10 I will be at your game this week, ready to cheer you on and watch you guys win. I can hardly wait to see you in action.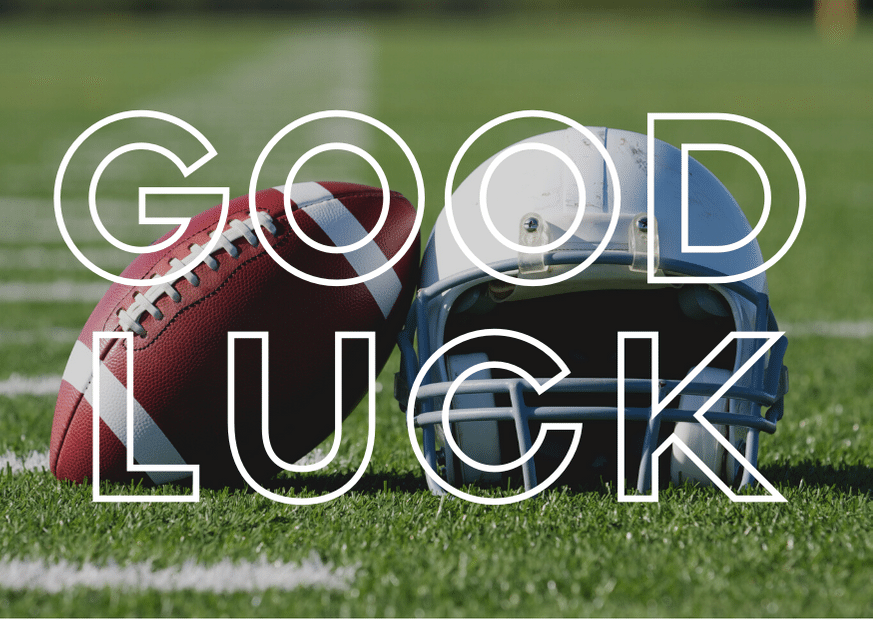 #11 You are by far my favorite football player, and I love the way you play with both intelligence and intensity. Go hard, and play smart.
#12 Don't let anything distract you from the big game this week. When you are focused, you are a very special football player, and the other teams don't know what to do with you.
#13 Very few players have the skills and speed you have. Unleash it all in this week's game, and I know you guys will win.
#14 I am so excited about your game this week. I can hardly believe how much you and your whole team have improved this year. You guys have the chance to do something great.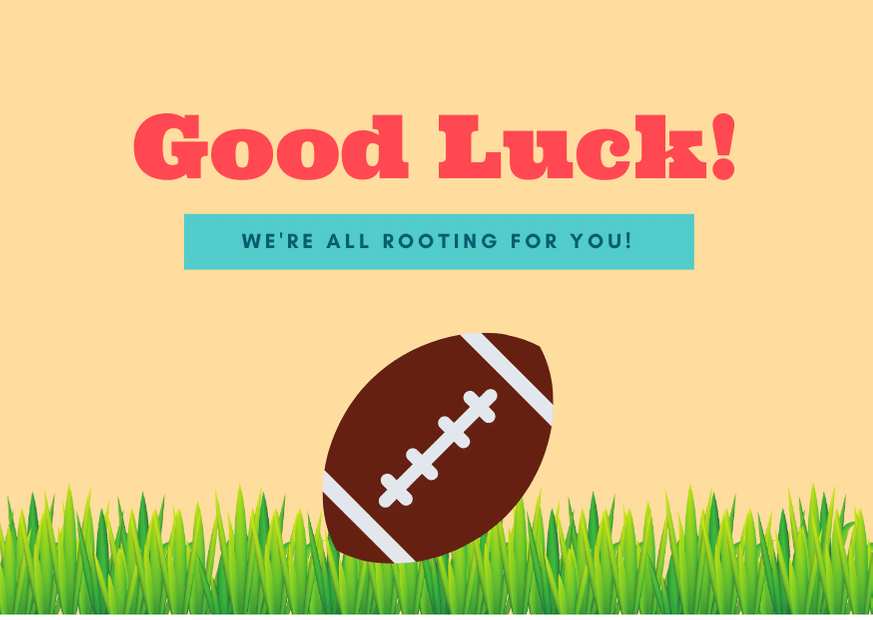 #15 You are a talented player and a gifted leader, and I love watching you play. I will be there this week, ready to cheer you on.
#16 Whatever happens in the game this week, I am just proud of your determination. Keep doing what you're doing.
#17 Don't be nervous about your upcoming game. You have worked hard and done everything you can to be ready. Trust your instincts and play hard.
#18 You are a one-in-a-million player and an unbelievably gifted athlete. It is a treat to watch you play. Keep up the good work.
#19 From the blow of the first whistle to the sound of the last, I know you'll be giving it your all.
#20 You've been focused, and you've been practicing. Now it's time to hit the gridiron and do what you've been structuring yourself to do.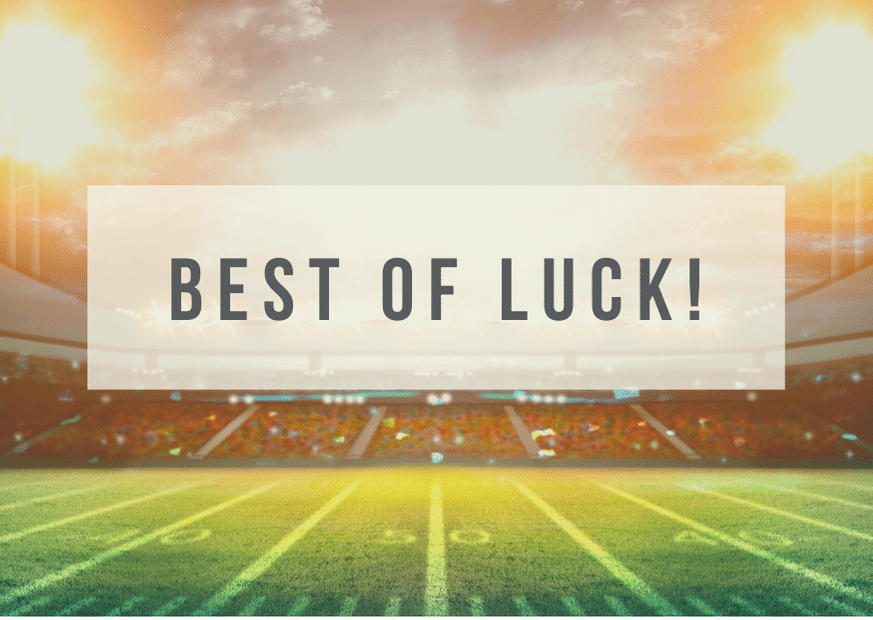 #21 We'll be there in the stands watching every play, every down, and cheering you on! Keep your eye on the ball and have a great game.
#22 Nobody knows like we do how much this next game means to you. If you've played the game to the best of your ability, nobody can take that from you- win or lose.
#23 I do not doubt that you'll be playing to your strengths, and giving it your all during the big game. After you strap your helmet on and head out to kickoff, don't stop believing in yourself.
#24 Your team has done well, and now the heat is on. As the season progresses and games become more meaningful, don't lose sight of what brought you there in the first place.
#25 Your character is your greatest strength because when the going gets tough, you thrive. While you're on the field, share that strength with the rest of the team!
#26 We're all so excited to get out there and watch you play your next football game. We're behind you one hundred percent!
#27 To some, football is just a game- to others, it's a way of life. I know for you, it's everything. Play your position the way you've been trained to the best of your ability, and you'll have a game to remember.
#28 It's time to bring all of that training into fruition in the form of a spectacular game. We'll be with you all the way!
#29 If you're feeling pressure about your upcoming game, make sure to turn everything around, so the only ones feeling that pressure are your opponents.
#30 You'll be heading out soon to do battle out on the football field. We're pulling for your team, and will be here to celebrate with you when it's over!
The Most Famous Quotes to Include with Your Good Luck Message for a Football Player
"You cannot make progress with excuses."
Cam Newton
"No matter the circumstances you may be going through, just push through it."
Ray Lewis
"The Enemy of the best is the good. If you're always settling with what's good, you'll never be the best."
Jerry Rice
"Success isn't owned, it's leased. And the rent is due every day."
J.J. Watt
"It's not whether you get knocked down, it's whether you get back up."
Vince Lombardi
"Today I will do what others won't, so tomorrow I will do what others can't."
Jerry Rice
"The only place success comes before work is in the dictionary."
Vince Lombardi
"When you don't give up, you cannot fail."
Adrian Peterson
"I may win and I may lose, but I will never be defeated."
Emmitt Smith
"It's not the size of the dog in the fight, but the size in the fight of the dog."
Archie Griffin
The Best Bible Verses to Include with Your Good Luck Message for a Football Player
1 Corinthians 9:25
Everyone who competes in the games goes into strict training. They do it to get a crown that will not last, but we do it to get a crown that will last forever.
Psalm 118:13-14
I was pushed back and about to fall, but the Lord helped me. The Lord is my strength and my defense; he has become my salvation.
2 Timothy 4:7
I have fought the good fight, I have finished the race, and I have kept the faith.
Colossians 4:6
Let your conversation be gracious and attractive so that you will have the right response for everyone.
Proverbs 25:27
It is not good to eat too much honey, nor is it honorable for people to seek their own glory.
1 Corinthians 10:31
So whether you eat or drink or whatever you do, do it all for the glory of God.
Philippians 2:3
Do nothing out of selfish ambition or vain conceit. Rather, in humility value others above yourselves.
Deuteronomy 31:6
Be strong and courageous. Do not be afraid or terrified because of them, for the Lord your God goes with you; he will never leave you nor forsake you.
Ephesians 4:29
Let no unwholesome word proceed from your mouth, but only such a word as is good for edification according to the need of the moment, so that it will give grace to those who hear.
Philippians 4:13
I can do everything through Christ who strengthens me.